art
VoiceThread is a user-friendly way to share power point presentations, videos, photos, and other media. Students and professors can record video or audio responses, draw on the media to highlight certain points, and comment in text form. This site is useful for discussion outside of the classroom, allowing students to focus on the topic at hand and reflect in a collaborative way.
Want to Learn More?
Read how VoiceThread describes its capabilities.
/\/\/\/\/\/\/\/\/\/\/\/\/\/\/\/\/\/\/\/\/\/\/\/\/\/\/\/\/\/\/\/\/\/\/\/\/\/\/\/\/\/\/\/\/\/\/\/\/\/\/\/\/\/\/\/\/\/\/\/\/\/\/\/\/\/\/\/\/\
Capabilities
Through VoiceThread...
Professors can:
Upload power points
Upload question slides for comment
Comment on students' writing in video, text, and visual formats
Students can:
MediaThread, a project created by the Columbia Center for New Media Teaching and Learning through the Digital Bridges Initiative is a service that allows you to blend your thoughts with multimedia sources and share them with others. MediaThread supports video, images, metadata, and many content websites listed below. Most compatible with Firefox, MediaThread is currently being used by Columbia, MIT, Wellesley, Dartmouth, The American University in Cairo, and many other institutions of higher education.
Who can do what with MediaThread? Through MediaThread...
While looking through Chapter 5 of Critical Play by Mary Flanagan I became interesed in an artist who was mentioned only briefly. His name is Allan Kaprow and it is his work that coined the term Happening, something we all experienced a few weeks ago.
A Happening is a work that is shaped through audience participation. It creates a narrative through interactions of the participatnts and the Environment. The Environment is the space where the work occurs that encompasses everything that is needed for the work- people need only enter for it to begin.
Kaprow's most famous work is "18 Happenings in 6 Parts". Reading about this work reminded me of "The Quiet Volume". It involves participants moving through a series of three rooms while following the direcctions written on three cards and the sound of bells to indicate when to move on.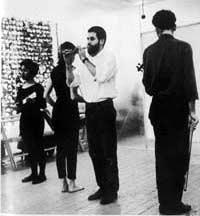 On Fridays I work with a 2hr long class with 4-6 year olds. Usually, the weekly projects correspond to modern artists, but this week they worked with the Valentine's Day theme. There are 9 students in the class (8 girls and 1 boy), in the full age range.
Exerpt:
During this class, something that stood out to me was Ms. A's helping the kids with many of their projects.
Cut-out hearts: fold square paper, draw half of heart, cut out along line. Some kids needed/wanted more help with this process than others. Ms. A would fold and draw for many of them, I was trying to show them how to do it by example, then see if they could do it on their own. Maybe this was a little too challenging?
Much of my experience has been with slightly older children and/or in more "educational" environments (schools and a museum that was all about educating children through creative projects). But should this placement (an art center) not be as challenging as a school? It's always still a learning experience. Also, because I am working with younger children (4-6), where is the line between encouraging challenging learning experiences and helping out with things that might be too advanced for a certain age group? Especially for young childred, there are certain developmental ages that really dictate what a child is capable of doing (i.e. scissors with the 2 yr olds).
Maybe I should read up on these stages...any suggestions?
Hey everybody, I don't really know if this has any place in this Ecological Imaginings class, but maybe if we can imagine the preservation of women to be a form of ecology, not unlike the preservation of all plant life, animal life.
I just wanted to call everyone's attention to this excellent documentary currently being shown on PBS on Mon & Tues nights at 9:00 PM. I imagine you guys have lots of time to watch films, yeah! But this is an amazing series.
"Half the Sky" about gender based violence.
Here's the link to the first & second segment:
http://video.pbs.org/video/2283557115
http://video.pbs.org/video/2283558278
[just speak nearby the borders of our minds] <-- link
This is a piece about borders. About communities. About movement and restrictions and ideologies. I wanted to interrogate how feminism is at times bounded by qualifiers, that is, to differentiate between French feminism and Third-World Feminism, and the ways in which those are both appropriate and constructed such that the result is constructed identities viewed as essential.
Among artists in the 20th and 21st century, explicit reference to prior works has become a mode of producing pieces. This may be in the form of collage or pastiche of some kind, and in video art, it is typically through found footage that these references can be made. Video Artists like Dara Birnbaum have spoken on the power of reappropriating footage, specifically, in her case, from popular media sources, but some of the logic remains in what I have done. Birnbaum wanted the agency to engage with the images being presented to her, to take ownership and subvert their meanings to create new meaning, asserting that she wanted to "talk back" to the media. Further, she asserts:
I'm working to develop and create a storyboard for the video piece I want to produce for my final project, but I am wondering if the directive and narrative-reflective form of the storyboard. That is, this happens, then this, then this. And that is not the kind of video I want to make, nor does it reflect the way I do my work, so I'm not sure if I should try to conform to the process, that it might make my work better, or if I should just do as I typically do, which is to be a bit more organic in my process, although perhaps less deliberate?